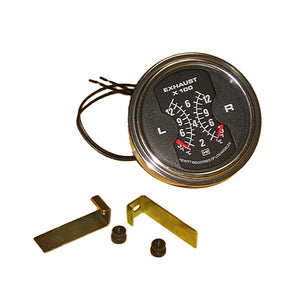 Caterpillar
CAT Caterpillar 3N-4416 Genuine Original OEM Pyrometer Twin (3N4416)
Regular price
$153.00
$0.00
Unit price
per
FREE SHIPPING ANYWHERE IN USA & CANADA INCLUDED!
Condition: New old stock. Outer box is scuffed and worn from storage and handling but item itself is brand new never used. Sold with our "no-hassle" 30-day return warranty.
Cat pyrometer twins are used to display the engine temperature on Cat heavy
Displays right and left side engine temperatures
Includes illuminating lamp
Fitment
Fits the following models. May fit other models not listed:
GENERATOR: SR4
PETROLEUM PRODUCTS: 3508 3512PETROL 3508PETROL
ENGINE - INDUSTRIAL: 3412 3412C 3412E 3508 3512 3512C 3516 3516B 3516C D346 D348 D349 D379 D379B D398 D398B D399 G3508 G3512 G3516 G379 G379A G398 G399 3508C 3512B
MARINE PRODUCTS: 3508 3512 3516 D346 D348 D349 D379A D379B D398A D398B D399
ENGINE - GENERATOR SET: 3412 3412C 3508 3512 3516 3612 3616 D379B D398B D399 SR4
PM Dealz is not an authorized Caterpillar dealer and is not affiliated with Caterpillar Inc.. All items sold by PM Dealz are covered under our own no-hassle 30-day return warranty.