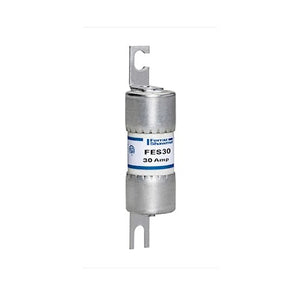 Ferraz-Shawmut
Ferraz-Shawmut Mersen FES30 Fuse, Class C, 600VAC/460VDC, 200kA AC/40kA DC, 11/16" x 3-5/16"
Regular price
$20.00
$0.00
Unit price
per
FREE SHIPPING ANYWHERE IN USA & CANADA INCLUDED!
Condition: New
Ferraz Shawmut Class C fuses have British standard (BS88) dimensions and are exact replacements for the British fuses and older HRCII‑C fuses. Class C fuses are not dimensionally or electrically interchangeable with other North American fuses. They feature ceramic bodies and bolt‑in mounting. They are for short‑circuit protection only, in motor controllers, for example, where overload protection is provided by an overload relay.
Specifications
Current Rating 30A
Voltage (AC) 600 VAC
Voltage (DC) 460 VDC
Characteristic Fast Acting
Package Type Offset Bolted
Interrupt Rating 200 kA @ 600 V
Trip Indicator No
Alarm Contact No
Approvals CSA
RoHS Yes