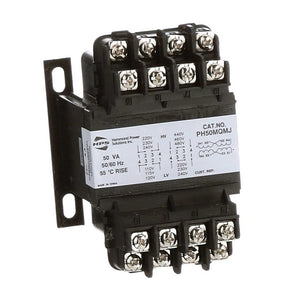 HPS Hammond Power Solutions
Hammond Power Solutions PH50MQMJ Imperator™ Series Industrial Control Transformer
Regular price
$76.00
$0.00
Unit price
per
FREE SHIPPING ANYWHERE IN USA & CANADA INCLUDED!
Condition: New
The HPS Imperator® Series is a unique innovative and compact design that provides the ideal solution for any industrial control application and will change the way the industrial machine tool industry looks at the control transformer. The HPS Imperator®'s unique terminal block design allows for the quick and easy installation of standard secondary or optional primary 13⁄32" X 11⁄2" midget/type CC fuse clips on every unit.
The windings and internal terminations of the HPS Imperator® are encapsulated which protects them from moisture, dirt and other airborne contaminants. The custom molded coil covers with their unique 'fin shaped' design combine superior transformer cooling properties with a clean bold look.

Specifications
Available Voltage 240 ; 480 ; 230 ; 460 ; 220 ; 440 V
Configuration Encapsulated
Dimensions 4.38 L x 3 W x 3.19 D in
Frequency 50/60 Hz
Mounting Hole Size 2.5 ; 2.25 in ; in
Mounting Type Panel Mount
Needed Voltage 120 VAC ; 240 VAC ; 115 VAC ; 230 VAC ; 110 VAC ; 220 VAC
Number of Outlets 2
Operating Temperature +55 °C
Phase 1 Phase
Power Rating 50 VA
Primary Type Industrial Transformer
Primary Voltage 240 (230, 220)/480 (460, 440) VAC
Secondary Current 0.42/0.21 A
Secondary Voltage 120 (115, 110)/240 (230, 220) VAC
Standards cULus, CE
Termination Screw