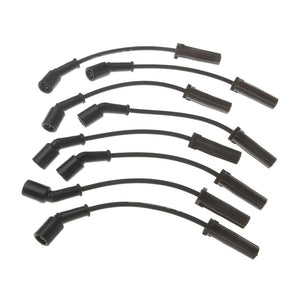 ACDelco
ACDelco 9748HH Genuine Original OEM Professional Spark Plug Wire Set of 8
Regular price
$38.00
$0.00
Unit price
per
FREE SHIPPING ANYWHERE IN USA & CANADA INCLUDED!
Condition: Item appears new & unused but is missing its original packaging so is being sold as "Used, Like New". Will ship in a generic box. Sold with our "no-hassle" 30-day return warranty.
ACDelco Professional Spark Plug Wire Sets consist of a set of wires, encased in an insulating material, connectors, and insulating boots, and are a high quality replacement for many vehicles on the road today. The wires transfer high voltage pulses between the voltage source, the distributor, and the spark plugs. These premium aftermarket replacement components are manufactured to meet your expectations for fit, form, and function.
Specifications
Boot Color: Black
Boot Type: SOLID
Coil End Boot Color: Black
Core Material: Fiberglass Reinforced Latex Graphite
Distributor Coil End Boot Type: Silicone Angled
Distributor Coil End Terminal Type: Stainless Steel
Insulation Color: Black
Insulation Material: Silicone
Insulation Outside Diameter: 0.27 in
Length: 10.5 in
Maximum Wire Length: 10.5 in
Noise Suppression Type: Yes
Outside Diameter: 7 mm
Resistance: 1000