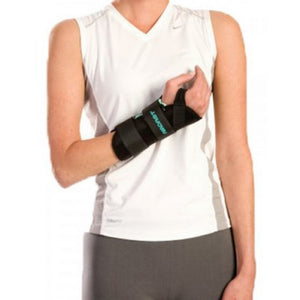 Aircast
Aircast A2 Wrist Brace, Large, Right, Model 05WLR
Regular price
$23.00
$0.00
Unit price
per
Condition: New
The Aircast A2 Wrist Brace is a lightweight wrist stabilizer, made of durable nylon foam. It helps to control wrist movement while enabling full finger dexterity. The brace is intentionally designed for wrist injuries and conditions associated with ligament instability, muscle sprains and strains and carpal tunnel syndrome symptoms.

This wrist support product is also beneficial during the postoperative stage and after the removal of a splint or casting. Its adjustable straps have a contoured shape which helps it to fit to the wrist. The brace's construction not just covers the palm and wrist, but also provides support to the thumb. It is also useful for thumb related injuries.

The breathable and lightweight nylon fabric of the A2 Wrist Brace from Aircast allows sweat to evaporate. The brace has a malleable volar stay which fits to the wrist of different users. It comes with dual removable stabilizers which are above and below the hand. The brace helps users to carry out various daily life tasks.