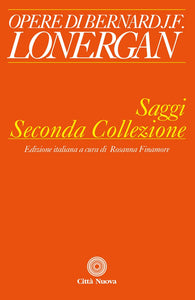 Citta Nuova
Book: Saggi filosofico-teologici - Seconda collezione (Opere di Bernard J.F.Lonergan) (ISBN 9788831173155)
Regular price
$61.00
$0.00
Unit price
per
FREE SHIPPING TO ANYWHERE IN USA OR CANADA INCLUDED!
Condition: New
Bernard Lonergan fece proprie le sfide dei cambiamenti culturali nel mondo e nella Chiesa e questo volume attesta le risposte significative date a esse. Le argomentazioni filosofiche accolgono le domande sull'uomo e su Dio, ma non meno quelle sull'assenza di Dio dal contesto contemporaneo, sul futuro delle codificazioni della filosofia cristiana e del cristianesimo, sui tratti comuni all'esperienza religiosa nelle varie religioni. Le argomentazioni teologiche, avvalendosi anche degli apporti filosofici - antropologici, etici, epistemologici, metodologici -, spiegano che cosa i cristiani credono sulla base della Parola di Dio e della parola dell'uomo nella Scrittura, nel Magistero, nella vita della Chiesa. Le riflessioni (1966-1973) si aprono all'apporto interdisciplinare, nella convinzione della fecondità del dialogo tra i cultori di ogni sapere, alla luce del metodo trascendentale generale.
Titolo Saggi filosofico-teologici - Seconda collezione
Autore Bernard Lonergan
A cura di R. Finamore
Editore Città Nuova
EAN 9788831173155
Pagine 352
Data febbraio 2021
Collana Opere di Bernard J.F.Lonergan
Bernard Lonergan took up the challenges of cultural change in the world and in the Church and this volume attests to the significant responses given to them. The philosophical arguments welcome questions about man and God, but no less those about the absence of God from the contemporary context, about the future of the codifications of Christian philosophy and Christianity, about the common traits of religious experience in the various religions. The theological arguments, also making use of philosophical contributions - anthropological, ethical, epistemological, methodological - explain what Christians believe on the basis of the Word of God and the word of man in Scripture, in the Magisterium, in the life of the Church. The reflections (1966-1973) open up to the interdisciplinary contribution, in the conviction of the fruitfulness of the dialogue between the lovers of all knowledge, in the light of the general transcendental method.
Title Philosophical-theological essays - Second collection
Author Bernard Lonergan
Edited by R. Finamore
New Town Publisher
EAN 9788831173155
352 pages
Date February 2021
Works by Bernard J.F.Lonergan series