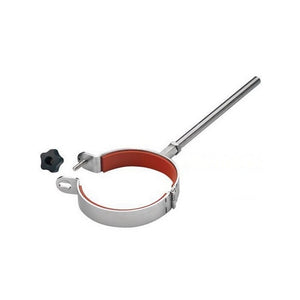 Chemglass
Chemglass CG-1947-A150 Support Clamp, Stainless Steel, 150mm
Regular price
$138.00
$0.00
Unit price
per
FREE SHIPPING ANYWHERE IN USA & CANADA INCLUDED!
Condition: New
Designed to fit just below the flange of all Chemglass Reactors and permits Reactor lid to be detached without removing the Reactor body from the support clamp.
Clamp is hinged on one side to swing open and allow complete access to install/remove reactor while clamp is still attached to lattice or benchtop support stand. Removable tightening knob holds Reactor secure.
Clamps are constructed of stainless steel with a 1/2" OD X 9.5" long extension rod for connection to lattice and benchtop support stands. The inner portion of the clamp is lined with a high temperature red silicone rubber to prevent direct contact between the stainless steel and glass Reactor.

Cross Reference
CG1947A150