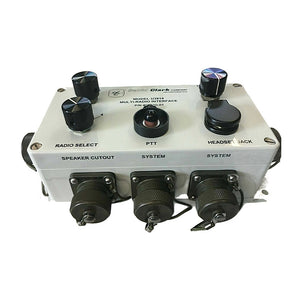 David Clark Company
David Clark Company U3814 Multi Radio Interface (40324G-01)
Regular price
$229.00
$0.00
Unit price
per
FREE SHIPPING ANYWHERE IN USA & CANADA INCLUDED!
Condition: Used in good "like new" condition. Sold with our "no-hassle" 30-day return warranty.
The Series 3800 Vehicle Intercom System is engineered to solve the problem of communicating in high-noise environments with a mobile vehicle platform. Fire apparatus, rescue vehicles, ambulances, command and control vehicles, airline deicers and paint stripers are but a few applications that currently benefit from the Series 3800 system.
The U3814 is designed to connect up to four radios to a Series 3800 Intercom System. It provides isolated radio transmit function for one headset and radio receive function for all users within the intercom system. It contains one headset jack with listen level control, one radio receive volume control, one 4-position radio transmit select switch, one radio PTT switch, four radio input connectors, two system input/output connectors, one optional speaker cut-out connector and one connector for optional remote PTT (via C3023 Belt Station, 40071G-04 Footswitch or other remote PTT device.)
With a modular design, rugged and weather-resistant enclosures, and functional versatility, the Series 3800 intercom system is an ideal solution for any mobile environment requiring crisp, clear communication and effective hearing protection.