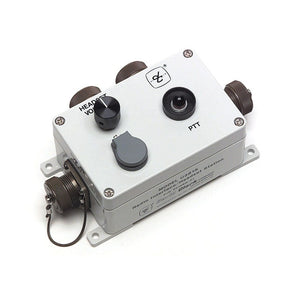 David Clark Company
David Clark Company U3815 Radio Interface/Headset Station (40136G-01)
Regular price
$268.00
$0.00
Unit price
per
FREE SHIPPING ANYWHERE IN USA & CANADA INCLUDED!
Condition: Used in good "like new" condition. Sold with our "no-hassle" 30-day return warranty.

The U3815 Headset Station/Remote PTT is designed to combine the transmit and receive functions of a mobile radio with the David Clark Company Series 3800 Intercom System. The Module has a headset jack, push-to-talk (PTT) button, radio input connector, two intercom connectors and a remote PTT connector. A listen level control allows the user to adjust their headset volume to suit individual preference without affecting the volume of other users within a system.
An important feature of the U3815 is that while the PTT button is depressed, or while a remote PTT switch is activated, radio transmission is limited to the user who's headset is connected to this module.