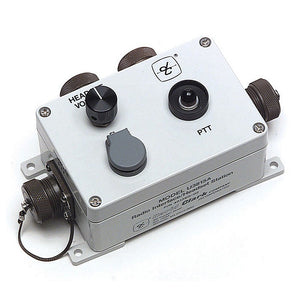 David Clark Company
David Clark Company U3815A Radio Interface/Headset Station (40136G-02)
Regular price
$308.00
$0.00
Unit price
per
FREE SHIPPING ANYWHERE IN USA & CANADA INCLUDED!
Condition: Used in good "like new" condition. Sold with our "no-hassle" 30-day return warranty.

The U3815A Headset Station/Remote PTT is designed to combine the transmit and receive functions of a mobile radio with the David Clark Company Series 3800 Intercom System.
The Module has a headset jack, push-to-talk (PTT) button, radio input connector, two intercom connectors and a remote PTT connector. A listen level control allows the user to<br>adjust their headset volume to suit individual preference without affecting the volume of other&nbsp;users within a system.&nbsp;An important feature of the U3815A is that while the PTT button is depressed, or while a remote PTT switch is activated, radio transmission is limited to the user who's headset is connected to this module.
Features
Expands the system, beyond the Master Station
Accommodates one Headset
Provides isolated radio transmit capability for the headset user at this position only, as well as radio receive from the connected radio for all users
Provides connection for further system expansion
Remote PTT connector accepts either 40071G-04 Footswitch or C3023 radio/intercom Belt Station
Simple installation
One system input connector (C38-XX)
One system output connector (C38-XX)
One radio input connector (C3821)
Headset jack
Listen Level control
Radio transmit momentary PTT switch