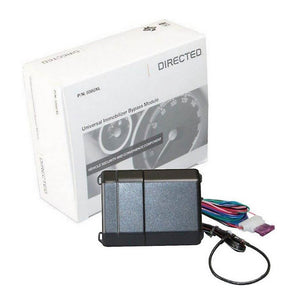 Directed
Directed 556UXL Universal Immobilizer Bypass for Remote Start, Selectable Windings for Larger Keys
Regular price
$23.00
$0.00
Unit price
per
Condition: Item appears new & unused but box has been opened and has tape all over it so it's being sold "like new" to avoid disappointing you. Sold with our "no-hassle" 30-day return warranty.
Start your car remotely, even if it needs a key with a chip!

Some vehicles absolutely need the key or fob to be in close proximity to the ignition switch in order to start. This transponder key uses a radio-frequency signal to disarm the vehicle's immobilizer, so you can start it. Directed's 556UXL bypass module provides a clever work-around, so you can add a remote start system that'll work in such a vehicle.

Features
Universal immobilizer bypass for a remote start system
Compatible with most factory RF immobilizer or transponder systems
Requires permanent key mount
Temporarily overrides the factory immobilizer
Maintains integrity of factory anti-theft system
Kit can be tuned for use with European or domestic vehicles
Supplied harnesses splice into factory wiring
Note
You will need to permanently install one of your vehicle's keys inside the 556UXL module. (The 556UXL is a larger version of the 556UW, designed to handle larger keys.) If you need that spare key, you can buy one through your dealer and have it programmed to work with your car's immobilizer. Ask your dealer if keys can be programmed individually — some vehicle manufacturers require that all keys be reprogrammed at one time.
Important
If you know how to use a multimeter and have experience working with your vehicle's electrical system, you should be able to install this bypass module yourself. If not, please consider having your system professionally installed.