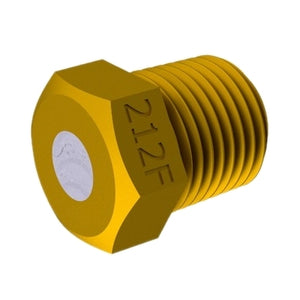 Globe Technologies
Globe Technologies 370013 Fusible Plug, Brass, 1/2" NPT, 100 deg C/212 deg F
Regular price
$15.00
$0.00
Unit price
per
FREE SHIPPING ANYWHERE IN USA & CANADA INCLUDED!
Condition: New
Fusible Plugs are thermally operated non-reclosing pressure relief devices to function by the yielding or melting of the fusible alloy.
Corrosion resistant construction
Fusible Plugs are limited to be used in applications where the service pressure does not exceed 500 psig (3,440 kPa)
Fusible Plugs do not protect against overpressure from improper charging practices
Underwriters Laboratories listed as Fusible Plugs, Refrigerant
Globe recommends where Fusible Plugs are installed in an atmosphere which can cause stress/strains or corrosion of surfaces, the plugs be examined annually and replaced if evidence of corrosion or stress/strain is evident.