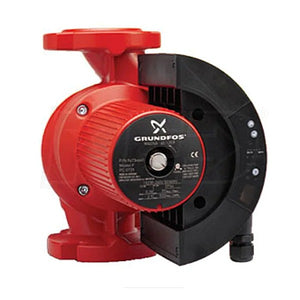 Grundfos
Grundfos 98071395 MAGNA 32-60 F Cast Iron Flange Mount Circulator Pump 230V, 1/6 HP
Regular price
$694.00
$0.00
Unit price
per
FREE SHIPPING ANYWHERE IN USA & CANADA INCLUDED!
Condition: New
The pump is of the canned rotor type, i.e. pump and motor form an integral unit without shaft seal and with only two gaskets for sealing. The pumped liquid lubricates the bearings. In order to avoid problems in connection with disposal, great importance has been attached to using as few different materials as possible. 
The MAGNA variable-speed wet rotor circulator from Grundfos is powerful, reliable, intelligent, and energy efficient. MAGNA delivers plenty of edge by utilizing a permanent-magnet rotor - a revolutionary design pioneered by Grundfos. It's easy to install, simple to operate, and an excellent choice for replacement applications. With these features and more, MAGNA is the smart choice for optimized pump efficiency.

Features
Wet-rotor technology is quieter and maintenance-free
Simple interface control makes operation easy
Delivers performance with up to 80% less energy than standard circulators
Specifications
Pipe Size: 1-1/2"
Type: Var. Speed Pump
Voltage: 230v
Max Flow (GPM): 39
Max Pressure (PSI): 203
Max Head (Ft): 19.7
Frequency: 60 Hz
Temperature Range (F): 32°F - 104°F
Connection Type: Flanged x Flanged
Material: Cast Iron
Connection Size: 1"
Horse Power: 1/6