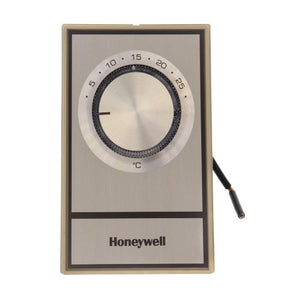 Honeywell
Honeywell T498A1786 Home Line Voltage SPST Electric Heat Thermostat, Beige/Brushed Gold, °C
Regular price
$39.00
$0.00
Unit price
per
FREE SHIPPING ANYWHERE IN USA & CANADA INCLUDED!
Condition: New but box has been opened and is scuffed and worn from storage. Item itself is new and unused. Sold with our "no-hassle" 30-day return warranty.
This Thermostat provides line voltage control of electric heating systems. Commonly used with Electric baseboards, convectors and fan forced heaters (resistive rated loads).
Features
Easy to install; color-coded leads.
Include thermometer. Include long-lasting Micro Switch™ mechanism; makes on temperature fall.
Rugged, plastic mounting base.
Mount on standard 2 x 4 in. outlet box or 4 x 4 in. junction box