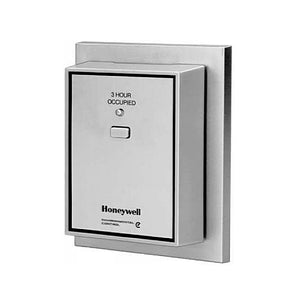 Honeywell
Honeywell T7147A1002 Remote Sensor and Override Module, Beige
Regular price
$38.00
$0.00
Unit price
per
FREE SHIPPING ANYWHERE IN USA & CANADA INCLUDED!
Condition: New
Remote Temperature Sensor & Override. Module: Connects to Q7300. Contains remote sensor, LED and push-button switch to invoke 3 Hour Occupied from remote location.
Features
Factory-calibrated negative temperature coefficient (NTC) thermistor sensing element.
Mount on wall or 2 x 4 in. vertical outlet box.
Locking cover.
Override button.
Specifications
Sensor Type: 1420 ohms @ 75 F
Color: Beige
Mounting: Mounts on wall or 2 x 4 inch vertical outlet box
Operating Humidity Range: 5 to 90% RH, non-condensing
Operating Temperature Range: 40 F to 110 F
Dimensions: 4 5/8 in. high x 3 5/8 in. wide x 1 5/8 in. deep