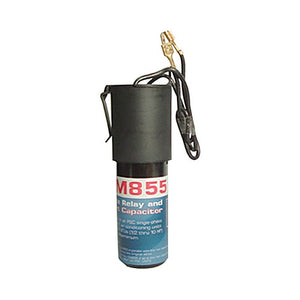 ICM Controls
ICM Controls ICM855 Motor Hard Start, PSC Single-Phase Motor Starter
Regular price
$27.00
$0.00
Unit price
per
FREE SHIPPING ANYWHERE IN USA & CANADA INCLUDED!
Condition: New
Features
Low cost motor starting device
Increases starting torque up to 300%
Positive Temperature Coefficient (PTC) Technology
Quick recycling
Self-adjusting to voltage fluctuation
Easy to install: 2-wires, clips or screws
Notes
Connect the two wires from the ICM855 in parallel with the run capacitor (one wire each side) without removing any original wires.
Use special "Piggy Back" terminal of the ICM855 if all of the run capacitor terials are being used.
Install only on PSC units equipped with run capacitor.
Specifications
Voltage: 115-288 VAC
Capacitor: 43-52 Mfd., 330V
Recommended for up to 1.5 HP
Cross Reference
A-1: WXS-5
MARS: 32701, 35701
SUPCO: SPP-5
WAGNER-DIVERSITECH: DST-5