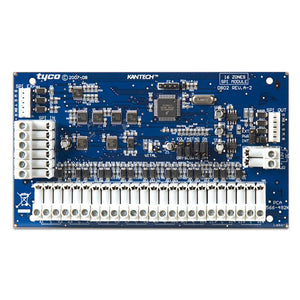 Kantech
Kantech Tyco/Johnson Controls KT-MOD-INP16 16 Zone Input Expansion Module with SPI Cable
Regular price
$139.00
$0.00
Unit price
per
Condition: New
The KT-MOD-INP16 is an input module that adds up to 16 zones to the KT-400 controller. The module supports daisy chaining; you can interconnect up to 15 KT-MOD-INP16 modules for a total of 240 external inputs per KT-400. Adding the 16 onboard inputs of the KT-400 gives a total of 256 inputs per KT-400. Combining input and output expansion modules gives the flexibility to connect up to 256 inputs and 256 outputs.
Specifications
Maximum Current Draw: up to 40 mA per module
Supports single end-of-line (5.6 KΩ) resistor, double end-ofline resistor and no end-of-line (DRY) zone loops
Supports Normally Closed (NC) and Normally Open (NO) contacts
Input change with a debouncing of 500 ms (Slow) or 150 ms (Fast)
Report conditions per input: SECURE or ALARM in single end-of-line and no end-of-line zone loops, and 2 additional conditions TAMPER and TROUBLE in double end-of-line zone loops
Can be used for contact or elevator input
perating Temperature: -10C to +55C, 0C to 49C for UL Listed product
Maximum Humidity: 93% (non condensing), 0 to 85% (non condensing) for UL Listed product
IP Class 3X, IK Rating 04 (when mounted in a Kantech cabinet). IP and IK rating not evaluated by Underwriters Laboratories.