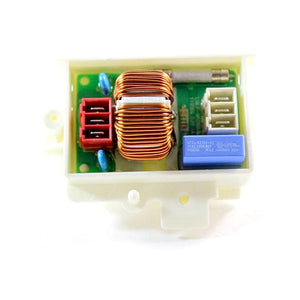 LG
LG EAM60991309 Electrical Noise Filter Assembly for Washers
Regular price
$46.00
$0.00
Unit price
per
FREE SHIPPING ANYWHERE IN USA & CANADA INCLUDED!
Condition: New
This noise filter is for washers. It filters the electrical power supply to prevent control board damage from power surges.
Note: For LG model WM3570H, order EAM60991309 if the baffles are curved; order EAM60991302 if the baffles are straight.
Unplug the washer before installing this part. Wear work gloves to protect your hands.
Fitment
Fits the following models. May fit other models not listed:
41072
41073
41162
41262
41382
41383
41482
41483
41583
WM1385HW
WM1388HW
WM3075CW
WM3170CW
WM3175CW
WM3270CW
WM3270HWA
WM3275CW
WM3370HRA
WM3370HVA
WM3370HVA/01
WM3370HWA
WM3370HWA/01
WM3475HVA
WM3570HVA
WM3570HVA/01
WM3570HWA
WM3575CV
WM3575CW
WM3650HVA
WM3670HVA
WM3670HWA
WM3770HVA
WM3770HWA
WM4070HVA
WM4070HWA
WM4270HVA
WM4270HWA
WM5000HVA