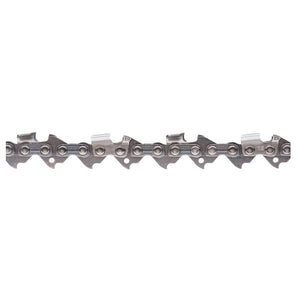 Oregon
Oregon 95VPX066G 66 Link Micro-Lite 0.325-Inch Pitch, 0.050-Inch Gauge, Low Kickback Saw Chain
Regular price
$20.00
$0.00
Unit price
per
FREE SHIPPING TO ANYWHERE IN USA OR CANADA INCLUDED!
Condition: Item is new but cardboard box is scuffed and worn. Sold with our 30-day "no-hassle" return warranty.
Oregon 66 Drive Link Micro-Lite .325-Inch Pitch, .050-Inch Gauge, Low Kickback Saw Chain 95VPX066G. 95VP chain is part of a Micro-Lite narrow-kerf cutting system that requires less power from the saw to cut than standard cutting systems.
Recommended saw size: up to 42cc, bar length: up to 18-Inch ( 46cm)
"x" grind-enhanced grind geometry significantly improves out-of-box sharpness with substantial speed improvement in boring and bias (undercut) modes
Cutter top plates are 33-Percent longer than standard cutters
Warning: Chains are capable of kickback that could result in serious injury to the saw operator or bystanders, for professional use only, use with caution.