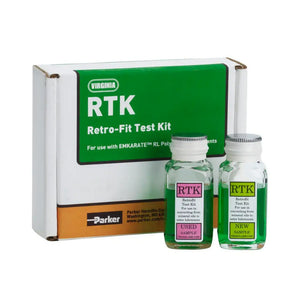 Parker Hannifin
Parker Virginia RTK Retro-Fit Test Kit for use with EMKARATE (tm) RL Polyol Ester Lubricants (30034-002, 475363)
Regular price
$46.00
$0.00
Unit price
per
FREE SHIPPING ANYWHERE IN USA & CANADA INCLUDED!
Condition: New
For use with EmkarateTM polyol ester lubricants to analyze residual mineral oil content during retrofit. In preparation for retrofitting a system to an HCFC, HFC or HC refrigerant, the existing mineral oil must be flushed out and the crankcase refilled with a compatible lubricant.
The RTK retrofit test kit gives you a simple but accurate indication of whether or not the mineral oil has, in fact, been reduced to an acceptable level. The RTKTM gives a visual indication if the mineral oil content is greater than 5%, between 1 and 5% or below 1%. This allows the technician to easily and inexpensively meet the requirements of the system manufacturer.
Features
Simple and inexpensive to use.
Visual indication of residual amounts of mineral oil.
Highly accurate.