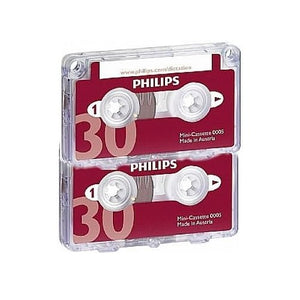 Philips
Philips LFH0005/62 Dictation Mini Cassette, 2-Pack (LFH000562)
Regular price
$31.00
$0.00
Unit price
per
FREE SHIPPING TO ANYWHERE IN USA OR CANADA INCLUDED!
Condition: New
15 Minutes Per Side for a Total of 30 Minutes Per Cassette. Price is for a pack of 2 cassettes.

Fitment
Fits the following models. May fit other models not listed.
All Philips models using the LFH0005 mini cassettes, including Philips Pocket Memo LFH381, LFH388, LFH488, LFH588, LFH710, LFH720, LFH725, LFH730, and Norelco 505, 510, 550, 555, 560.
Sanyo units using C-40N Mini Cassette Tapes such as Sanyo TRC-3580, TRC-3640, TRC-3680, TRC-3690, TRC-7500, TRC-7050, TRC-7600 and TRC-7060.
Sony BM60 and BM610 units replacing CM-30MN SONY Mini Cassette Tapes.
Dictaphone 877050 M-30 Dictaphone Mini Cassette Tapes in all Dictaphone mini cassette tape units including the 1740 and 1750.
Norcom mini cassette units.