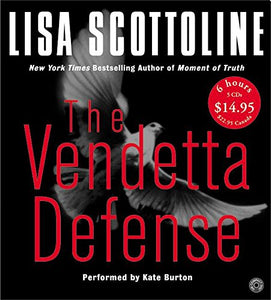 PM Dealz
The Vendetta Defense - Lisa Scottoline - Audiobook
Regular price
$8.00
$0.00
Unit price
per
In the sixth riveting thriller in #1 bestselling author Lisa Scottoline's Rosato & Associates series, a lawyer is handed the case that could make her career—and jeopardize her life.
"Lisa Scottoline knows the simple yet magical secret at the heart of compelling suspense fiction." — Philadelphia Inquirer
Judy Carrier takes the case of her career to defend Anthony Lucia, fondly known as "Pigeon Tony," who freely admits to killing his lifelong enemy in order to settle a personal vendetta. Her client's guilt, however, is only the beginning of Judy's problems. The victim's family wants revenge and is determined to finish off Pigeon Tony and Judy before the case goes to trial. Then there's Pigeon Tony's hunky grandson, who makes Judy think about everything but the law.
In a case steeped in blood and memory, it will take brains and a lot of luck to save Pigeon Tony. But if anyone will see justice done, it's this gutsy girl who will risk everything to win—including her life.